Wooden Beam Strengthened with FRP

Fiber Reinforced Polymer (FRP) provide economical solutions for strengthening wood beams. Among the advantages of QuakeWrap™ are:
Increases flexural strength of beam
Decreases the detrimental effects of wood defects
Excellent bond to wood surfaces
Little increase in the dimensions of the beam as a result of the retrofit
Lower cost than replacement or external post-tensioning with steel cables
The effectiveness of this retrofitting scheme has been demonstrated on both cut lumber and glue-laminated beams.
.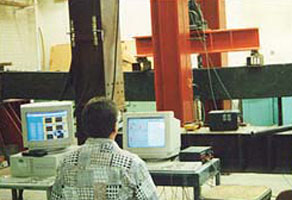 The effectiveness of QuakeWrap™ in strengthening wood girders has been demonstrated at the University of Arizona by testing several wooden girders, retrieved from a bridge that was in service for over 35 years. The girders had a cross sectional dimension of roughly 7.75 in. x 19 in. (200 mm x 480 mm) and were 30 feet (9.1 m) long. The beams were tested on a simple span of 25 feet (7.6 m) subjected to two concentrated loads.
.
.
.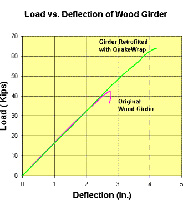 The strength of the beams increased significantly; in the case shown here, this increase was nearly 45%.
Even more significant improvements have been observed when glulam beams are strengthened with carbon plates and fabric. A brief summary of these studies is provided in the magazine article mentioned below.
.
.
.
---
Case Study
A sample of project where glulam beams have been strengthened with Fiber Reinforced Polymer (FRP) is the Coolidge High School Gymnasium. An article was also published in the February 2004 issue of Structure Magazine, highlighting this project. By clicking below, you will be able to view specific information on the project and the published article.